October school holidays in WA and the Harveys on a long drive. We met five more 4WDs with three more camper trailers at Wiluna, having come from both north and south, and we headed east towards the Gunbarrel Highway.
October 1st - We departed from Perth... last view of the Indian Ocean for two weeks. There's about seven tonnes there at a guess. Poor little Perkins.
Fuel stop at Payne's Find, topped up one tank to see us through to Wiluna. Lovely little Perkins.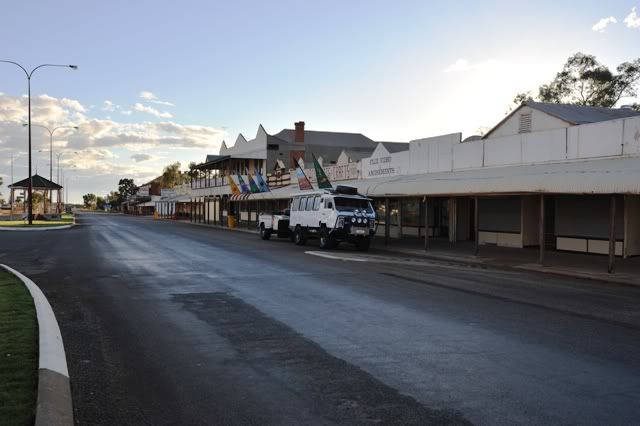 Stopped at Cue for dinner. The main drag on Saturday night at dusk. I hope we didn't have to book.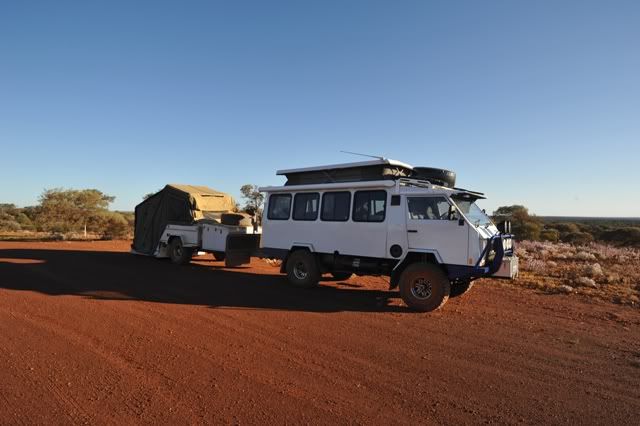 October 2nd - Next morning, at our overnight stop 70km short of Wiluna. As it turned out this was a much nicer place to stop than Wiluna, where everybody else had already gathered. We had a brahman bull crunching around outside here at 3am. That was unnerving, trying to figure out what it was from under the doona.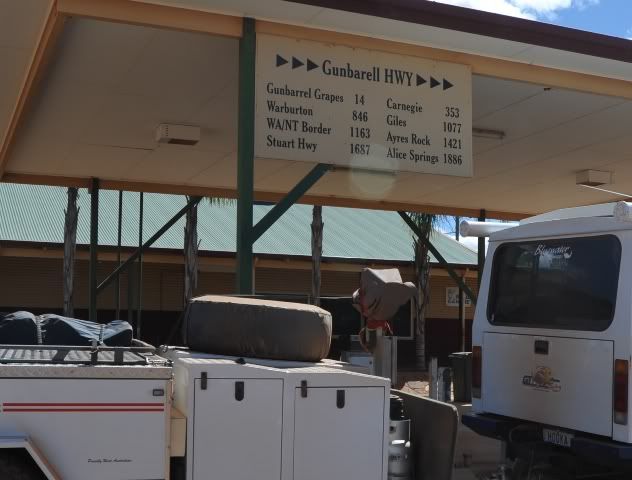 Nice servo at Wiluna though, but the signwriter couldn't spell for quids!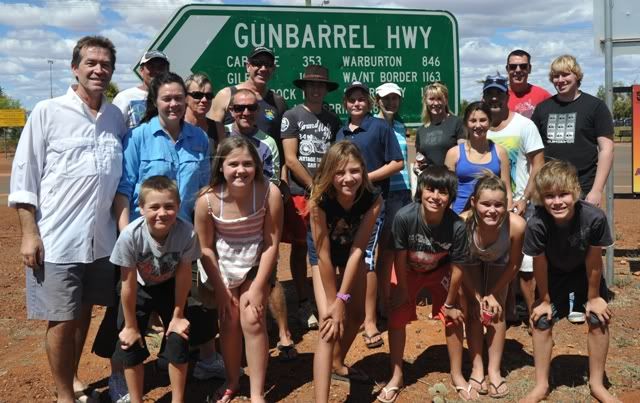 The mob, keen to go. Ten over-30s and ten in the eight- to 16-y.o. age bracket.
October 3rd - We had overnighted at Mingol Camp, and from there the first stop was Carnegie Station, for a full-to-the-brim fuel up. I didn't work out the cents per litre. Don't want to know. We have about 850km to go from here before we see another fuel pump.
We had to drive to the top of Mount Nossiter, as we were feeling a need to have lunch at the highest point around.

Campsite for the second night - on the map as 'abandoned' but it wasn't - Mungilli Outstation. The kids quickly seconded an old concrete pad and some hardware into a handball court.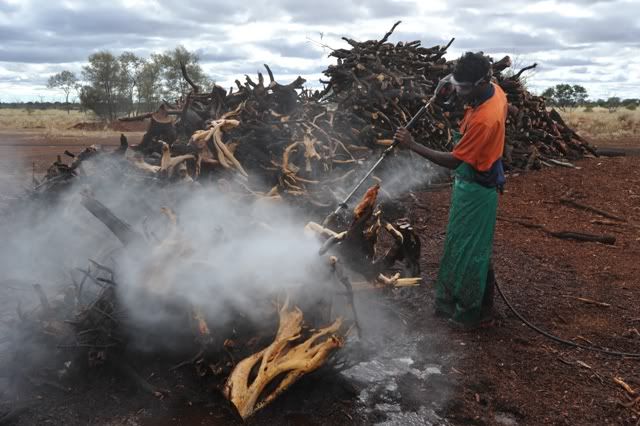 October 4th - Mungilli Outstation thriving in its own way - an active sandalwood collection operation. This guy is stripping the bark with water pressure. We were welcome here and the boss man, Eric, was happy to play tour guide for the morning.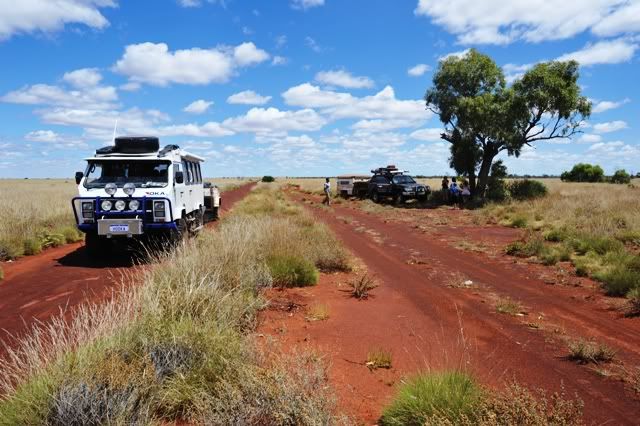 Down the track, the first of several replica Beadell plaques.
Said plaque.
The more 'current' signage isn't exactly flasher, but then this isn't exactly a gazetted road any more.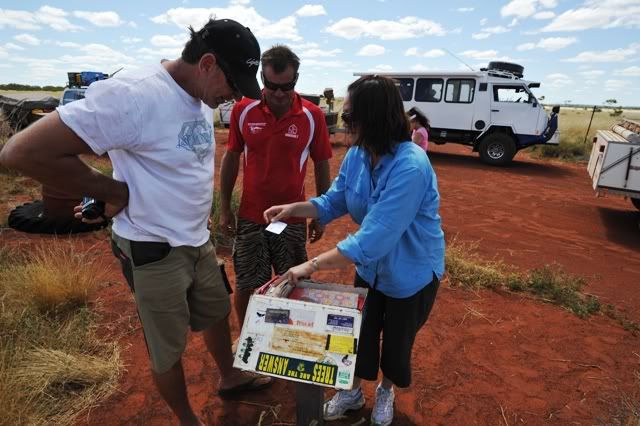 A box full of business cards in the middle of nowhere. Many years' worth in remarkably perfect condition. It's not actually nowhere, it's Everard Junction, which is the southern end of the Gary Highway.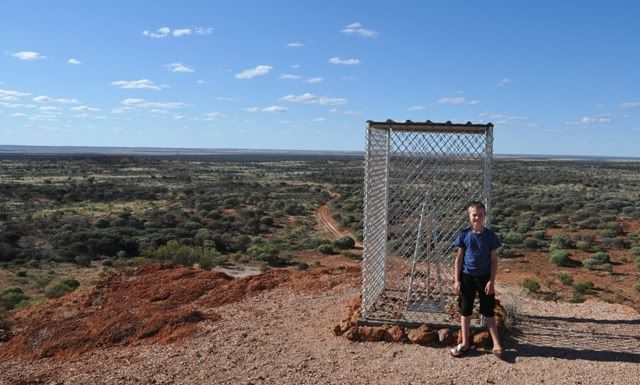 The Len Beadell monument, and son Jack, at the top of Mount Beadell.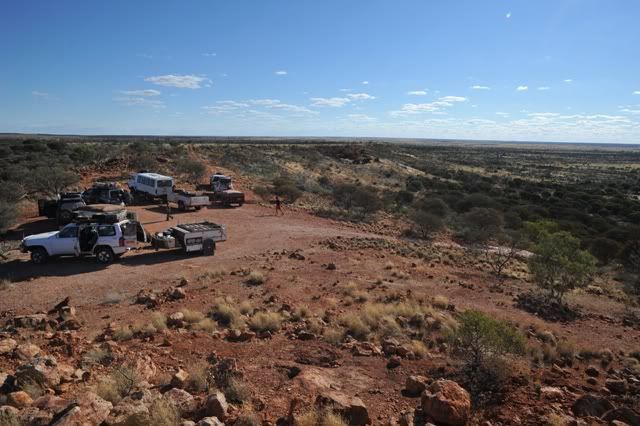 And the mob at the top of Mt Beadell, all present and accounted for. We camped about 6km further along the road, where a big sign proclaimed the Beadell Campground to be Under New Management. That must have been the dingo that was hanging around.
October 5th - The very occasional signpost, with distances still in miles. The last time this road was touched with a grader was in 1991.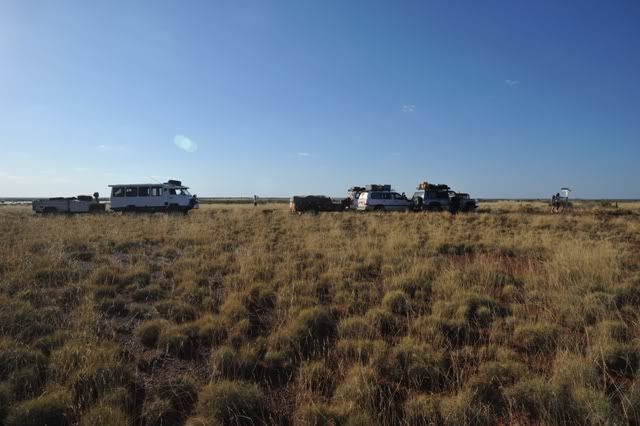 Jackie Junction. Turning left and heading north on to the 'abandoned section' here.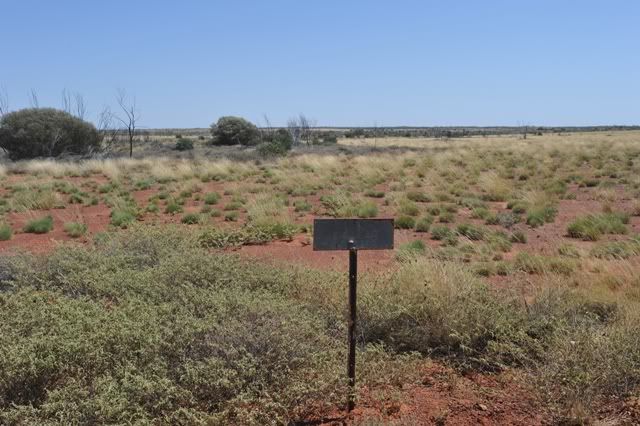 October 6th - "Million Dollar Corner". I've no idea why it's called that. It should come as no surprise that this was on a straight stretch of road. We couldn't read the sign either.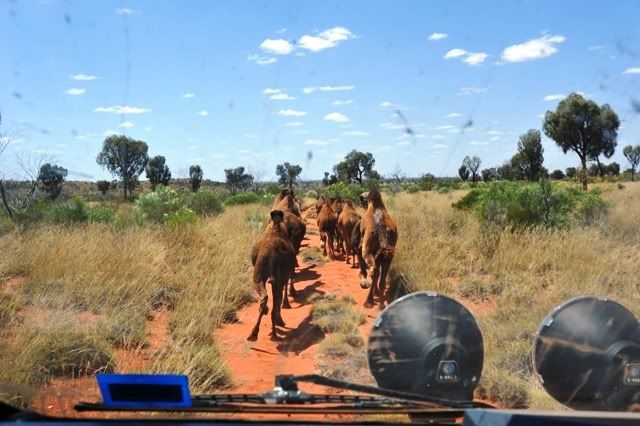 School zones on the Gunbarrel are 20km/h, and can last for a long time. It smelled a lot like an agricultural show at this time, with the windows down.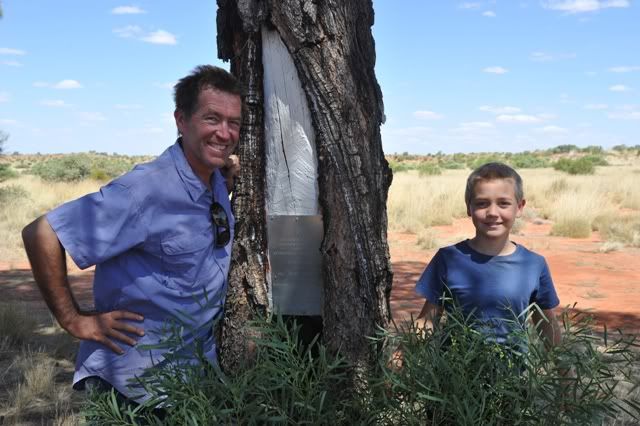 Tree plaques become more frequent as we near the end, probably because this is the end that Beadell's crew started from. Hal and Jack.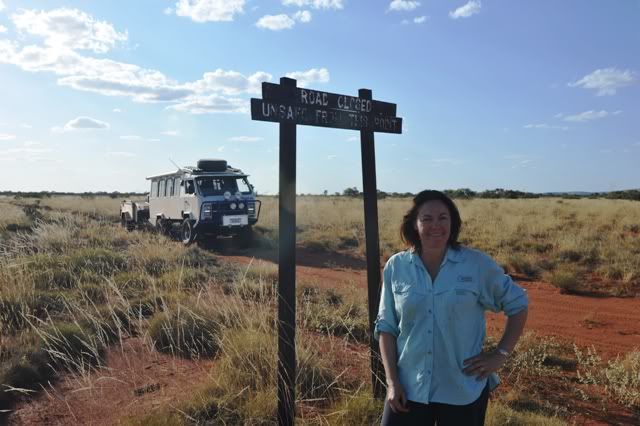 Liza with the sign at the end of the Gunbarrel - five days and we didn't see any other tourist traffic the whole time.
"Road Closed - Unsafe From This Point". Classic.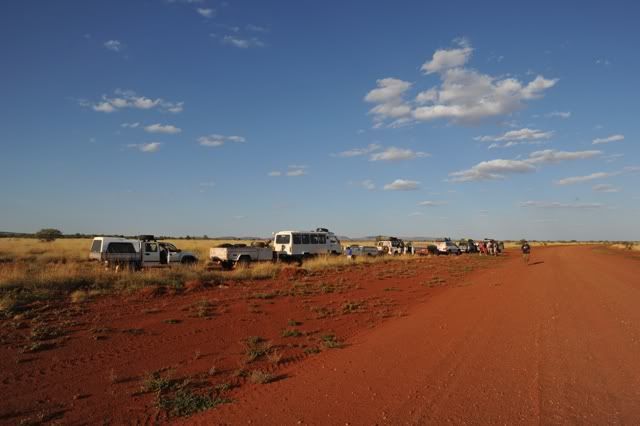 Joining up with the Great Central Road to head into Warakurna.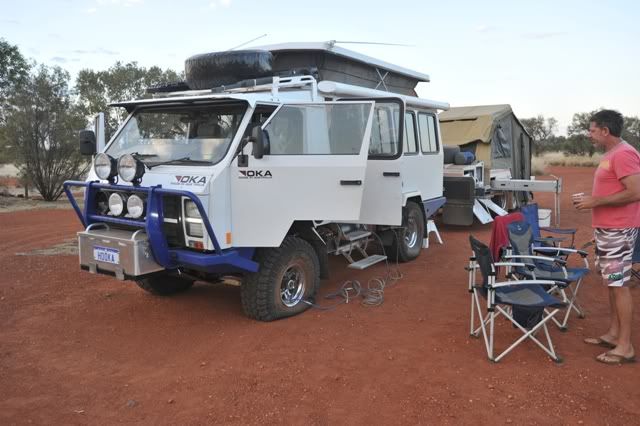 October 7th - The OKA's first flat - in the (very nice) Warakurna caravan park, overnight. We pumped it up in situ and plugged it.
Giles Weather Station - this particular part is just decoration and history now. For whatever reason, the patch of land that the meteorological station is on is 'owned' by South Australia - despite being in WA and next to the NT.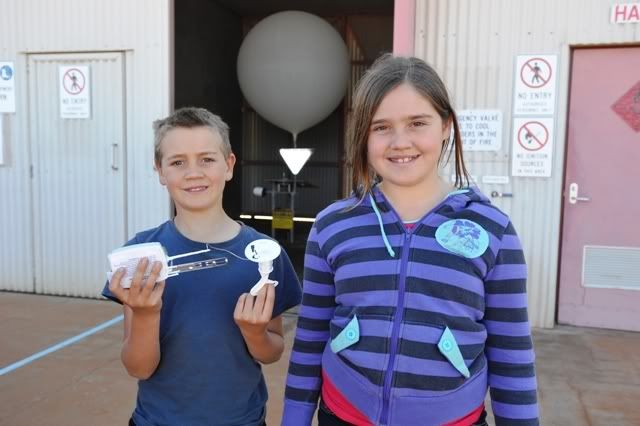 Weather balloons are the main game at Giles now. Jack and Elizabeth with the balloon in the background, shortly to be launched. Jack holds a sending unit that failed, which is why this balloon's running a bit late. The balloons go up twice a day and are part of a worldwide network of weather forecasting. They have a half-hour window to get each balloon launched.
Original Gunbarrel Highway plaques at Giles Meteorological Station (Warakurna). Connie Sue Beadell was involved in replica plaques being fixed at the original locations along the Gunbarrel in June 2003.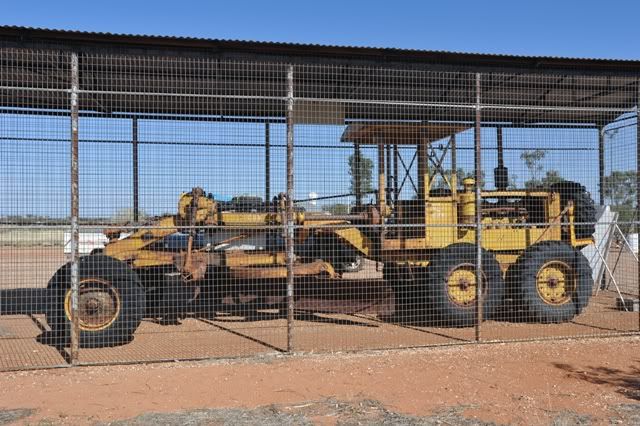 The original Gunbarrel Highway grader, much used here and elsewhere and gracefully retired to Giles.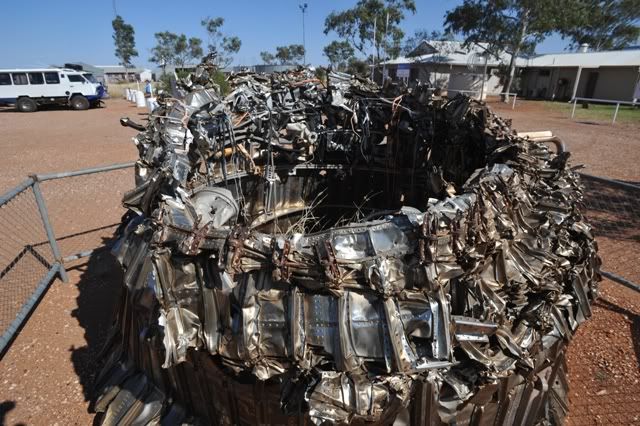 Remnants of a Blue Streak rocket, originally launched from Woomera. The wreckage was found about 50km from Warakurna.
That won't look so bad in a few years.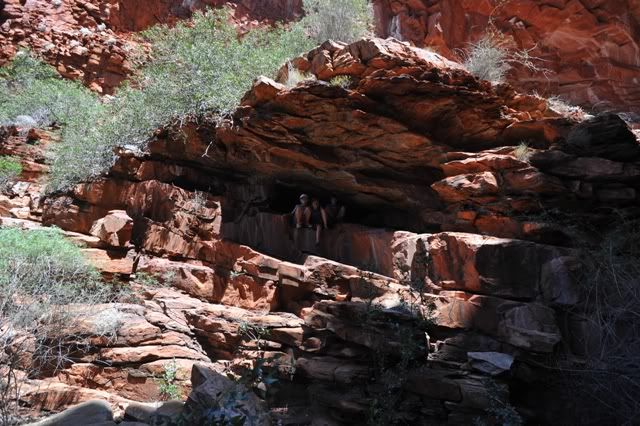 Exploring the gorges around Warakurna. They were lacking in water flow at this time of year.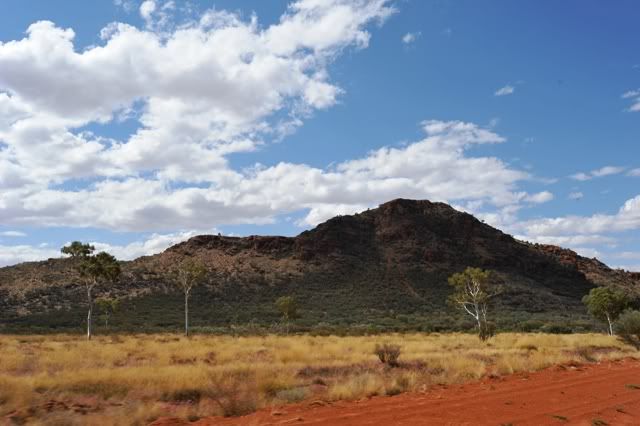 On the road further east, great ranges through here.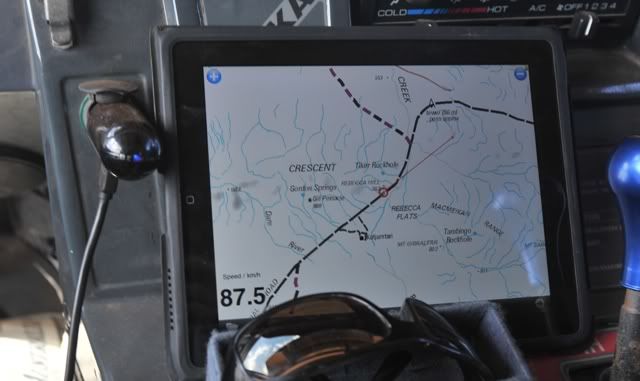 The iPad on the dash worked fine as a GPS.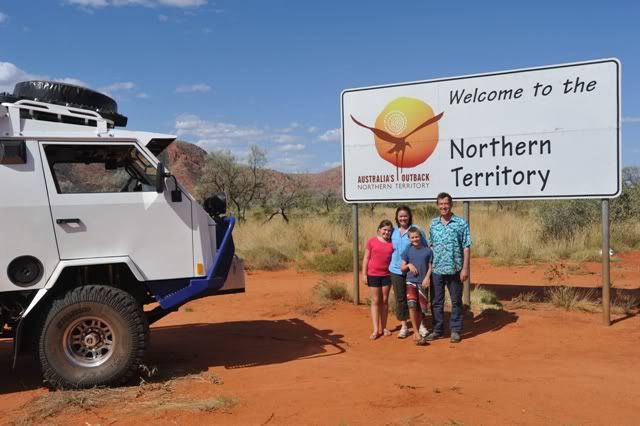 Obligatory Kodak moment. OKA 260, Elizabeth, Liza, Jack and Hal.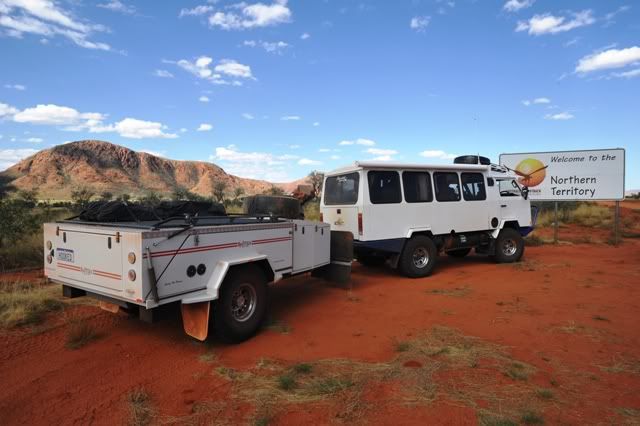 Prettier shot. The RedTrack camper trailer was completely dust-free on the inside.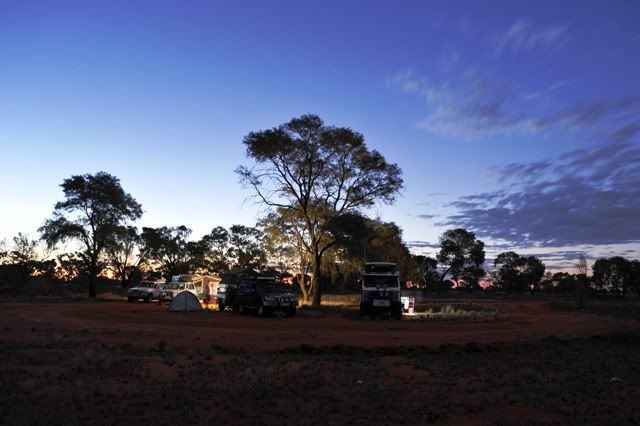 Overnighting at the campsite on the eastern side of Shaw Creek, Northern Territory.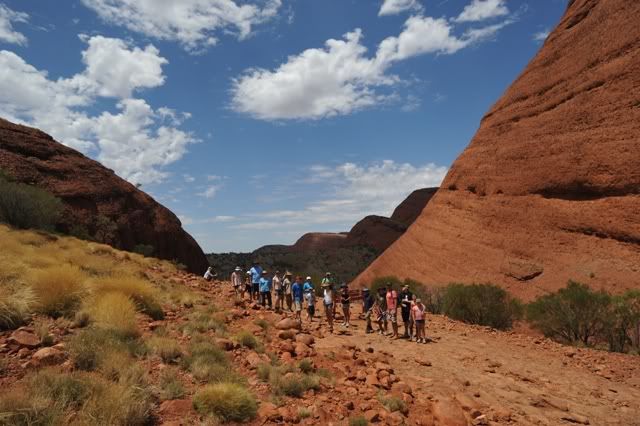 October 8th - At the Olgas for lunch, after a casual start. Not the best time of day to be doing long walks. I was the first to bail!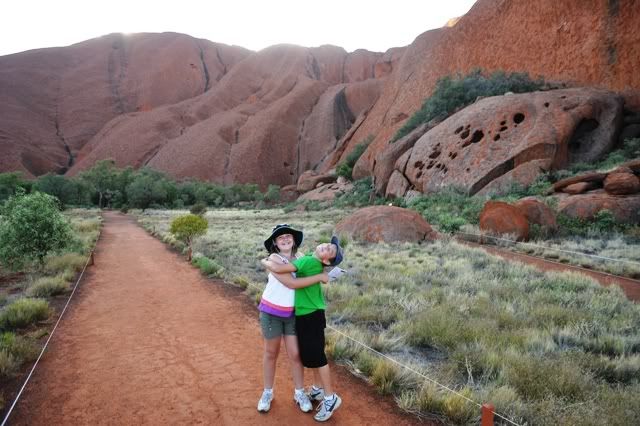 October 10th - Uluru early in the morning, after a lay day at Yulara. The Rock is all it's cracked up to be I reckon, indisputably spectacular despite the tourist trap aura.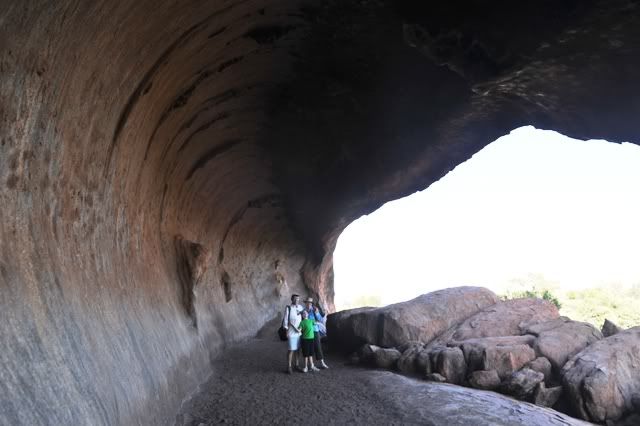 More Uluru.
Down there again for the obligatory sunset shot.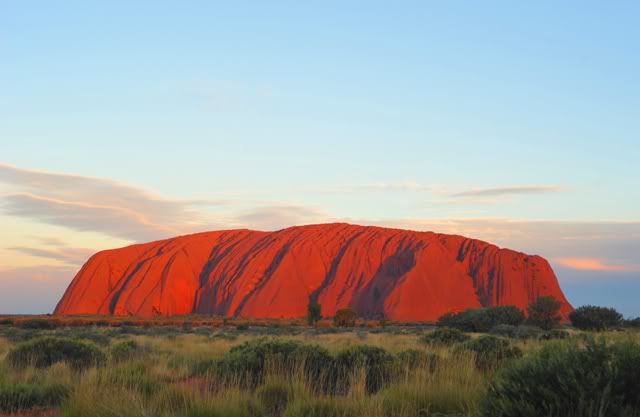 Got it.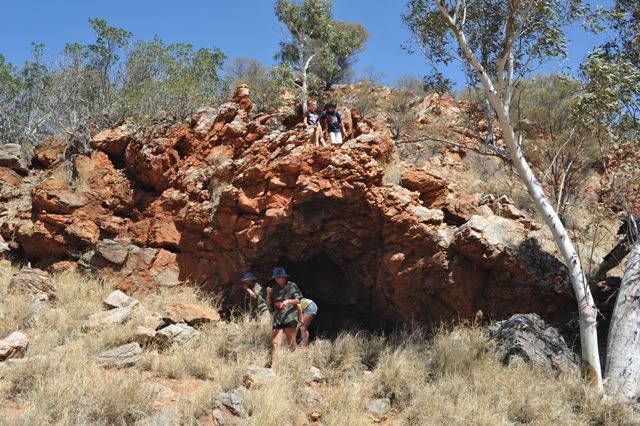 October 11th - On our way back now - stopped in at Lasseter's Cave for a lunch break. I hadn't realised it was such recent history - only 80 years ago.
Does it count as a beard when you forget the shaver recharge cord and don't shave for two weeks? Lacking in photos for the last bit, back to Warakurna (overnight), southwest down the Great Central Road through Warburton to Tjukayirla Roadhouse (overnight), to the the northern goldfields through Laverton, Leonora (overnight), Kalgoorlie and Coolgardie. Called in on Robin Wade and Aleesha at Goldfields OKA and carried on to Perth.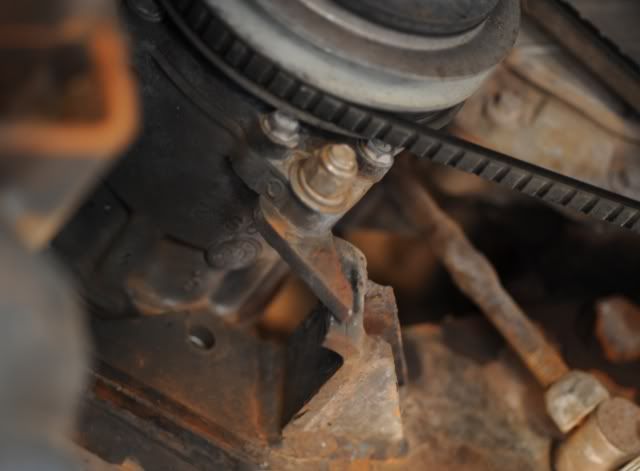 Damage report for the OKA: cracked the air conditioner bracket early on in the piece. Windows down, dust in. Ah well.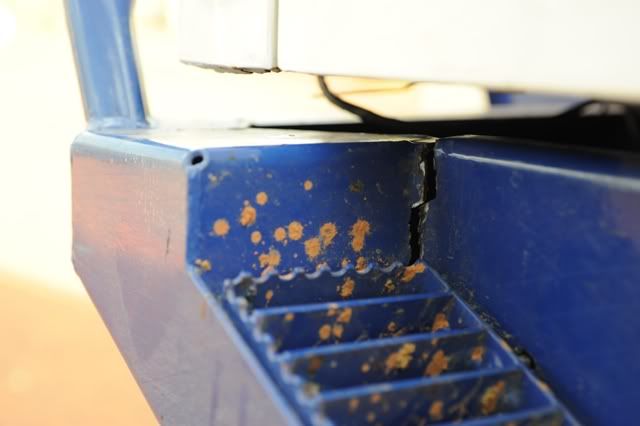 Cracked the bull bar weld on the left, probably because it's been missing a top bolt on that side for a few years. No drama, just another rattle. Also broke the rearmost exhaust hanger on the corrugations, but three coathangers later had the rattles there kept to a minimum.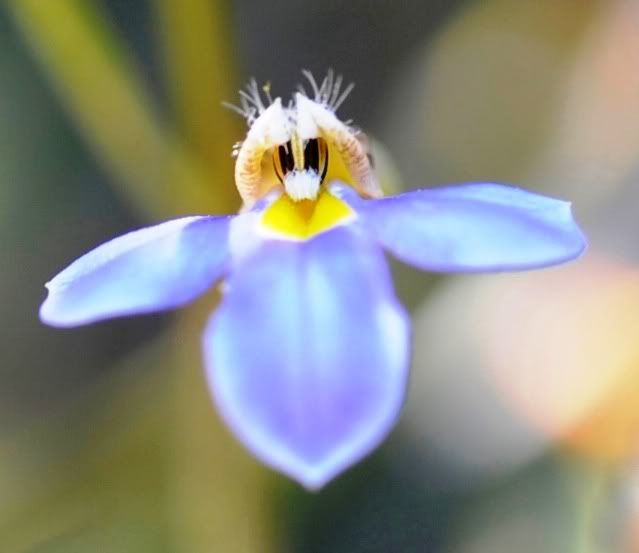 Wildflowers were out big time, and I have many more photos but just the Daisy Duck one might do for this report. Does anybody know what it really is? Photographed in the Gibson Desert, actual size about 10mm across.
We arrived back home on the evening of October 14th. The full 14 days was a good length of time to take for this trip.